Whilst we think our products are great, it is always nice to be recognised by a worldwide competition such as the Great Taste Awards.
Having recently re-branded, we decided to enter a few of our new products into the Great Taste Awards to compare the quality against others worldwide.
It is always a bit of an anxious moment when submitting entries because there really is nowhere to hide with products such as 'Lemon Curd' and 'Strawberry Jam'. It was a bold move to enter such simple, much-loved flavours, but we wanted to see what the judges thought. We believe that making simple, clean flavours to the best possible quality is what our customers love and appreciate about us most. We make products that we like to eat ourselves and have in our cupboards at home. We wanted to know if the judges agreed.
Great Taste Awards 2021
4 of our entries were rewarded with Great Taste Gold Star Awards and we think this shows that we are getting the quality of our products right:
2 Gold Star Award for Lemon Curd
1 Gold Star Award for Passionfruit Curd, Strawberry Jam and Cranberry Sauce with Port and Orange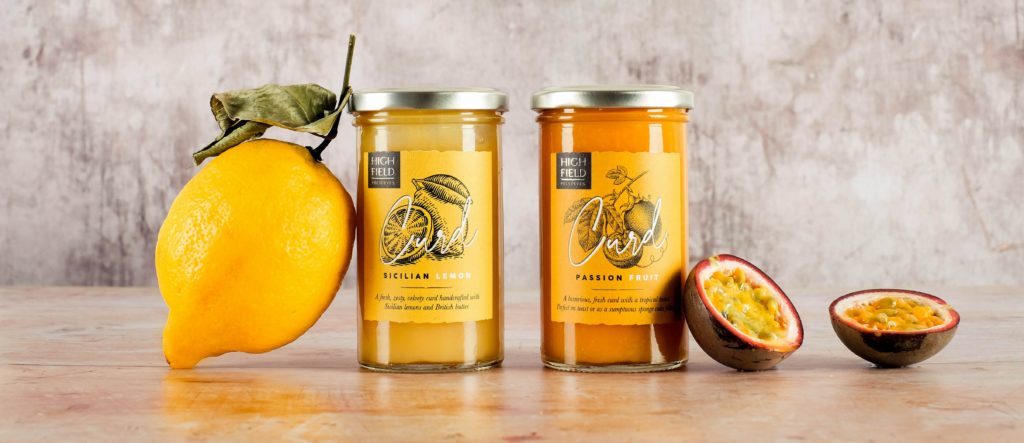 Our Curds did particularly well with our Lemon Curd coming out on top of all Lemon Curd entries with a 2 Gold Star Great Taste Award!

Here is what the judges said about our Lemon Curd:
"Lovely smooth texture. Buttery front notes with a fresh lemon throughout, and really pleasing flecks of lemon zest." "A very bright and sunny curd that is tangy and has a very intense lemon flavour. The curd is very smooth, velvety and has a buttery mouthfeel. Very delicious." "A delicious curd packed with huge amounts of high quality lemon. We loved both the sweetness levels and the little dots of rind throughout. A rich curd with exceptional balance."

Comments made by Great Taste Judges – Great Taste Awards 2021
Celebrating our success we would like to share a free jar of our Award Winning Lemon Curd with all our Highfield on-line customers. To claim your free jar, order 6 jars of of your favourite Highfield products from our online shop, making sure to include a jar of Lemon Curd. At the checkout enter coupon code J5NUO2QC and we will discount you the cost of the Lemon Curd! (time-limited offer until December 17th 2021).
We do hope that you enjoy our curd as much as we and the Great Taste Judges do!
We would love to hear from you – please submit your Curd reviews on our website.